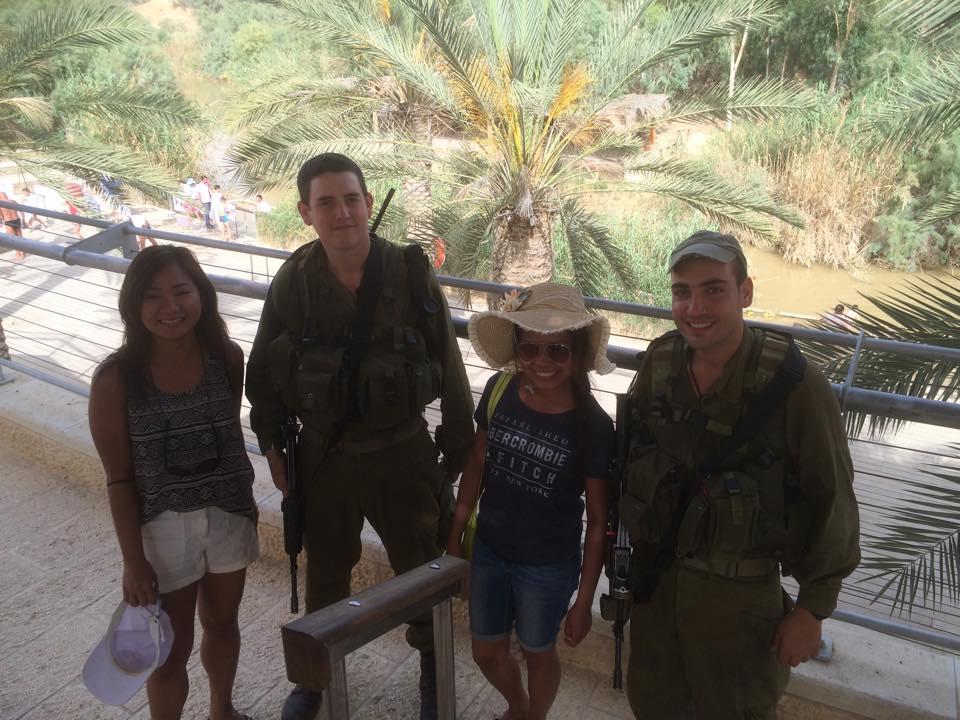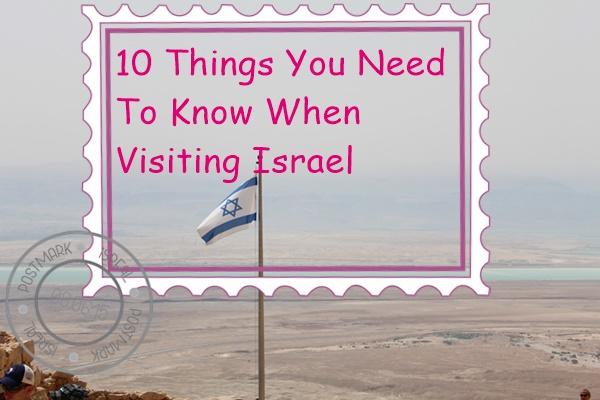 What you need to know?
It's always good to be properly informed when traveling, especially if you're traveling  on your own. Here are the 10 things you need to know when visiting Israel that will definitely help you. Since my Israel trip was a school trip, I was privileged to not  do all the research because everything was already organized. Nevertheless, I must say entering and leaving Israel can be complicated and can cause you inconviences without knowing the following :
1 .  Free visa 
If you are from these countries below, you do not need a tourist visa to come to Israel.
Albania, Andorra, Argentina, Australia, Austria, Bahamas, Barbados, Belgium, Bolivia, Bosnia Herzegovina, Brazil, Bulgaria, Canada, Central African Republic, Chile, Colombia, Costa Rica, Croatia, Cyprus, Czech Republic, Denmark, Dominica, Dominican Republic, Ecuador, El Salvador, Estonia, Fiji, Finland, France, Georgia, Germany, Greece, Georgia, Guatemala, Haiti, Honduras, Hong Kong, Hungary, Iceland, Ireland, Italy, Jamaica, Japan, Korea South, Latvia, Lesotho, Liechtenstein, Lithuania, Luxembourg, Macau, Macedonia, Malawi, Malta, Man & Canal Islands, Mauritius, Mexico, Micronesia, Moldova, Mongolia, Netherlands, New Zealand, Nauru, Nicaragua, Niue, Norway, Palau, Panama, Paraguay, Peru, Philippines, Poland, Portugal, Romania, Russian Federation, San Marino, Serbia, Slovak Republic, Slovenia, South Africa, Spain, Sri Lanka, St Kitts & Nevis, St. Lucia, St. Vincent and the Grenadines, Surinam, Swaziland, Sweden, Switzerland, Taiwan, Tanzania, Tonga, Trinidad & Tobago, Ukraine, United Kingdom, United States of America, Uruguay, Vanuatu. (This information here may change, so for updated information please visit Israel Ministry of Foreign Affairs  official site. )
However, as indicated in the Israeli Ministry Of Tourism, make sure that your passport is still valid until six months from the date they are departing the country. They will be issued a free visa upon arrival and this is valid for three months.
For complete list of countries that need visa to enter Israel, please click here. 
2. No Entry to Israel
There are some countries like : Afghanistan, Lebanon, Saudi Arabia, Iraq, Iran, Syria, Somail, Sudan and other Middle-East /Arabic countries  doesn't allow their citizens from entering Israel, and to some extent it can be worse like considered as a crime. Therefore it may be hard for you to enter the country. In the same way if you are from Israel or had been to Israel and you're planning to visit those Arab countries afterwards, make sure to request from the passport control window to not put a stamp in your passport, and you will be given a tourist visa like this.

3. Long Line
 Expect a long line by the time you enter the Immigration of Israel, the waiting time might take an hour or two. This is due to some people having some stamps with their passports from other arabic countries and were not aware of the regulations, unfortunately some of them were denied to enter Israel. It is not advisable to make important appointments 2-3 hrs after your flight, unless you have some VIP pass in the immigration control.
4. Food When I think about food in Israel, it's Kosher! And when I think about Kosher, it's Falafel. If you don't know what Falafel is yet, it is fried ground chick peas served with salad in pita. Most of the restaurants are Kosher certified, they serve either dairy or meat or fish. Foods are prepared in a special way and restaurants are closed on Shabbath. But of course not all restaurants are Kosher, so don't worry if ever you get tired of eating Kosher.
5. Shabbath Or Sabbath. Experiencing the Shabbath in Israel was very especial! It starts on Friday at seven in the evening and finished on Saturday also at seven in the evening. Most of the public offices, businesses and stores are closed. I can still remember we were walking all day in the city during the Shabbath since we didn't have a bus driver.
6. Dress Codes
When you are visiting Israel during the summer months, for women, bring some nice conservative dresses when you're planning to visit Holy places. Holy places have dress codes like : dresses or skirts should be below the knee and blouses should have sleeves. Otherwise, bring a shawl so you have something to put on your bare skin and can take it off when you go out. Going to the mosque has the most strict rules for women. You can't show your bare legs and shoulders. Moreover, skinny or tight jeans  are also not allowed.
7.  Make friends 
Don't hesitate to ask and talk to locals even to the soldiers. They are notably open, accomodating and immensely proud of their way of life, culture and whatever their country could offer. Make friends with the waiters in your hotel too, they're very helpful especially on Shabbath when you're not suppose to get other normal services!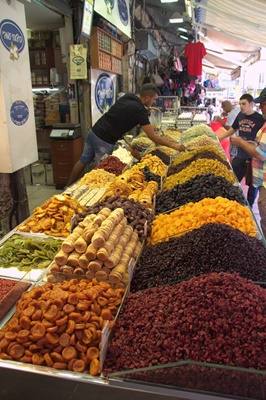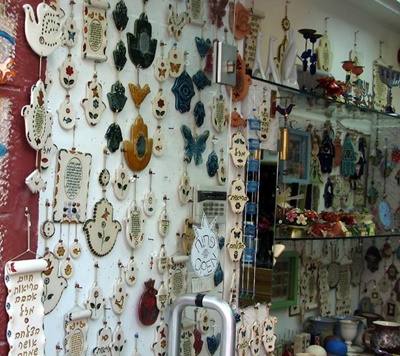 8. Ignore Rude Sellers
If you are on the go for souvenir shopping, there are several market places you can go in Israel. I got excited when I saw some of those crowded market places in Jerusalem because it made me feel a little bit home. I love to shop souvenir item whenever I travel and the chance to use my negotiating skills again. Unfortunately, there were some sellers who can get too pushy or hard selling and even got upset when you don't buy anything. Well, who would like to buy when you are pressured to the highest level? If ever you are in that situation just ignore them, it might ruin your day 😉 My classmates were all terrified when they experienced being shouted at. But of course it's still important to respect each other. When you don't have plans to buy don't ask them questions that might lead them to buying expectations to stay away from trouble.
9. Weapons Everywhere. In Israel, it's normal to see soldiers walking around while carrying rifles or any weapons. Don't be scared. It's their way of having security around. You'll get used to it somehow. Talk to them they are the most welcoming, amiable and helpful people around.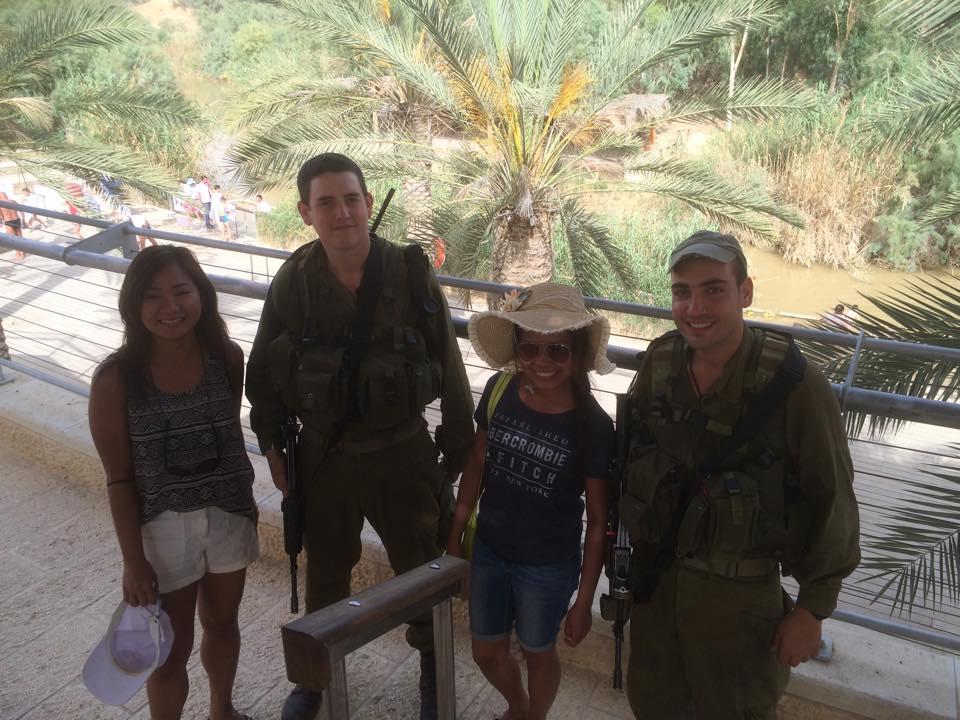 Jordan River (at the back)
10. Dead Sea Never open your eyes when swimming and be careful to not put a drop of salt water in your eyes. However if you accidentally put some ( like I did), just calm down and don't open your eyes so as not to get it worse, then call a friend to walk with you to the shower area. I tell you, it was really painful that I thought I'll damage my eyes. It is advisable to not go for a swim alone, unless you're 100% sure that you won't spill water in your eyes.