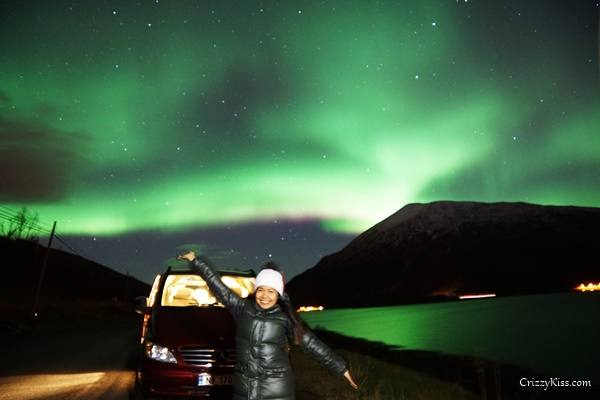 The Fabulous Northern Lights Weekend Break
After living in Norway just shy of 5 years, I went to see the magnificent magical beauty of the north pole lights commonly known as the northern lights or the aurora borealis. I had never actually seen these north pole lights myself since I live in the southern part of Norway in the capital city of Oslo. So I decided last month to go on an amazing northern lights weekend break with a few of my friends.
It was the end of November and the days were getting shorter and darker, the perfect ingredients that are needed to see the aurora borealis.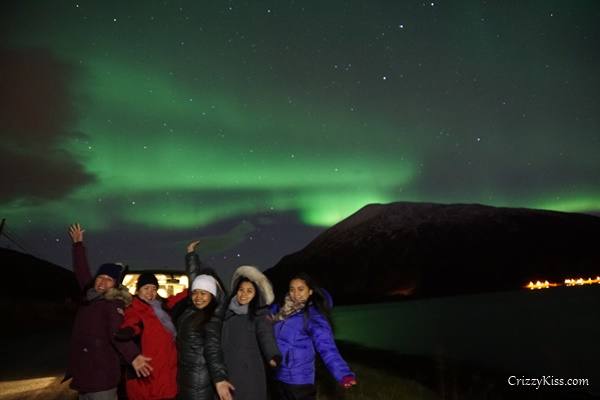 What are the northern lights and what causes the northern lights?
To be honest, I didn't know what caused the northern lights, I just knew that when it happens it is in the northern hemisphere.
I always thought that it was one of nature's little mysteries, but with a little research it turns out that there is a very simple explanation (simply cool). The explanation involves understanding the science behind the charged particles from the sun that is interacting with earth's atmosphere (it is best explained on this link by Northern Lights Center.)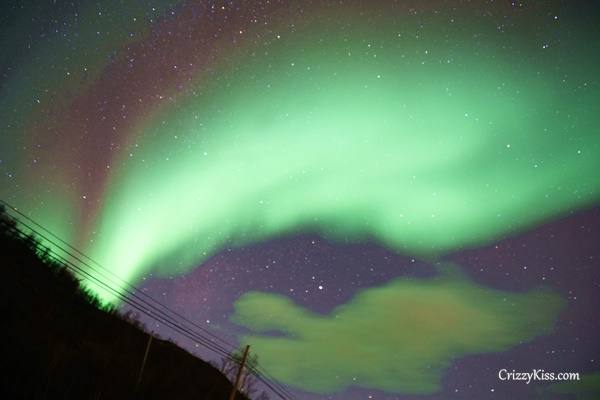 In short, there is a collision between oxygen particles in the earth's atmosphere and the particles from the sun. The color of the aurora depends on how high up in the atmosphere these particles collide.
Green auroras (the most common) are produced around 60 miles in the atmosphere, whereas reddish purple auroras come from particles colliding up to 200 miles in the atmosphere.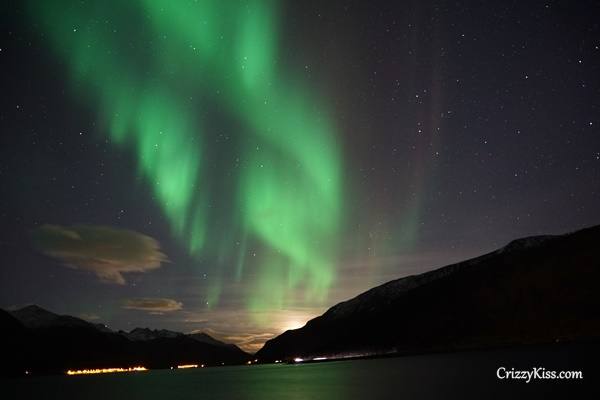 The lower the colliding particles are in the atmosphere the greener the color is, this is due to oxygen which will have a green tone at lower altitudes and red tones at higher altitudes. Whereas very high altitudes are more purple, which in part is due to nitrogen particles and not so much oxygen.
60 miles - green ( common )

Up to 200 miles - red ( rare )

Greater than 200 miles - purple ( very rare )
These are the cool things you try to learn when you are going on a northern lights weekend break. 🙂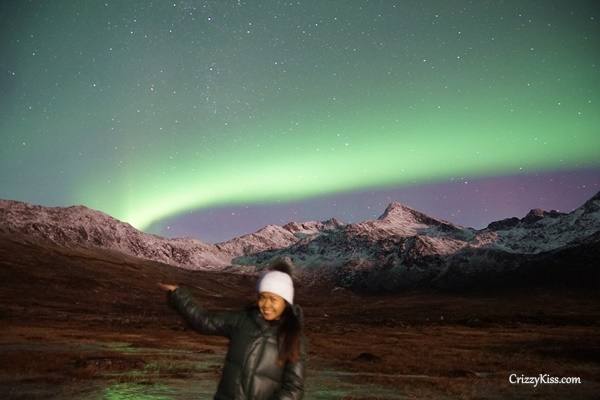 So when and where is the best place to view northern lights in Norway?
I have learned that the northern lights are most visible during the darkest months, from late September to early March. However, it is important to note that there is no 100% guarantee that they will be visible during your visit. In fact, this year the northern lights in Norway started showing as early as August. Since they are not 100% predictable a rule of thumb is the darker the better!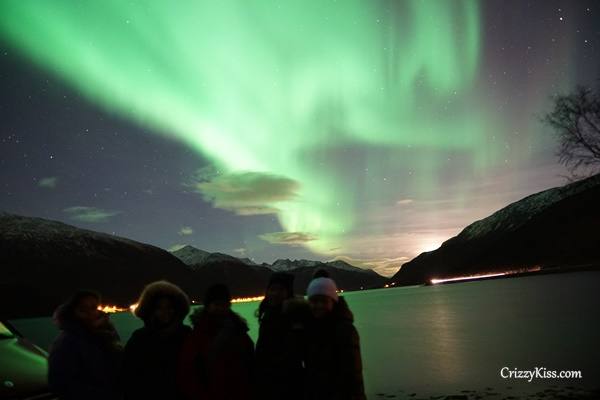 There are many factors to consider when chasing for the northern lights. One important fact is clear skies since they are almost impossible to see with overcast. Therefore, it is advisable to see the northern lights during the dark winter months when the sky is clear.
We got so lucky during our northern lights weekend break in Tromsø because the weather was amazingly cooperative.
My northern lights experience
While walking from our Tromso Camping cabin around 9:30 in the evening, the night was pitch black, and yet the sky was so amazingly clear. It was as if we could count all the stars in the heavens, but at the same time so incredibly dark that we needed flashlights to see the road.
As we were walking, we started looking at an out of placed cloud hanging in the night sky. This odd clouds color suddenly became darker and in a few seconds a light green color bounced off it and lite up the sky. It was as if the colors were moving and dancing across the heavens.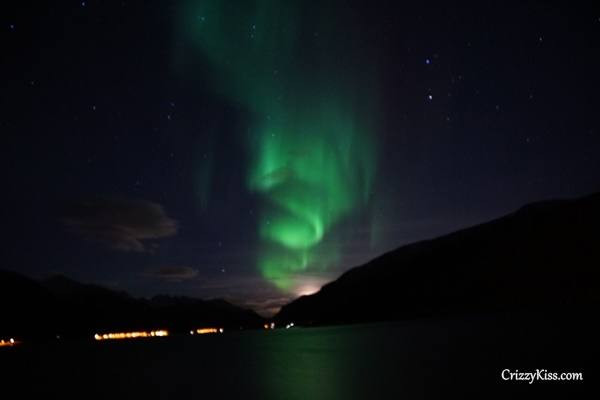 All of us were stunned and couldn't believe we were seeing the Northern lights on our very first night in the middle of the wilderness.
Tip:
When photographing northern lights, one must bring a good camera with a tripod where you can manually set up the ISO and aperture into the right settings. We couldn't take good pictures with our phones. With iPhones, it was just pitch-black, while the Samsung picked up some northern lights colors.
Luxury vs. Budget Deal: Northern Lights Trip
After taking some bad pictures of the northern lights colors with our phones, we decided to choose from the northern lights package deals that include a private car, a tour guide and where photographing northern lights is included.
We realized that during our northern lights weekend break, we didn't want to leave disappointed with our northern lights pictures.
One great thing about traveling to Tromso in groups is that we can take advantage of the group tour activities. In our cabin in Tromso Camping, the small group tour cost 1,270NOK each person, that was what we decided to go.
However, I found a good deal about booking a luxury northern lights hunting for 5999NOK. Since there were 5 of us, it'll only cost us 1200 NOK each person. It was a one in a lifetime experience so why not make the most of it.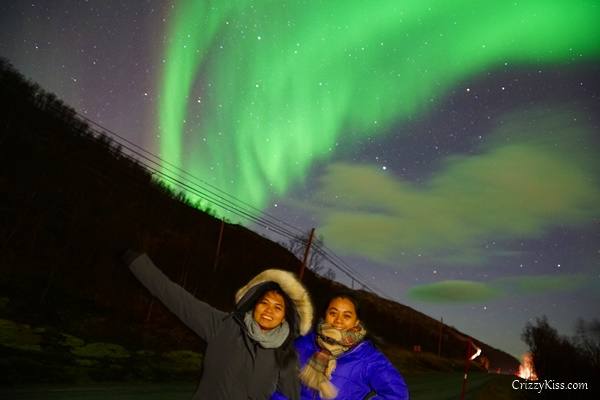 Our northern lights weekend break had been amazing! Everyone had their northern lights pictures taken and enjoyed the company of our official guide, Ahmed of Al-Hosani. He was an expert in taking us to the best places to see the magnificent north pole lights dancing. Coffee, tea, sandwiches, and chocolates were served during the entire northern lights trip. Well, what more could we asked for?! For beautiful nature and northern lights pictures, follow his Instagram account: elr7al.
I wrote a review on where to stay in Tromso, read more about here My Review for Tromsø Camping
Thank you for reading this article, please share it if you like or PIN me here!