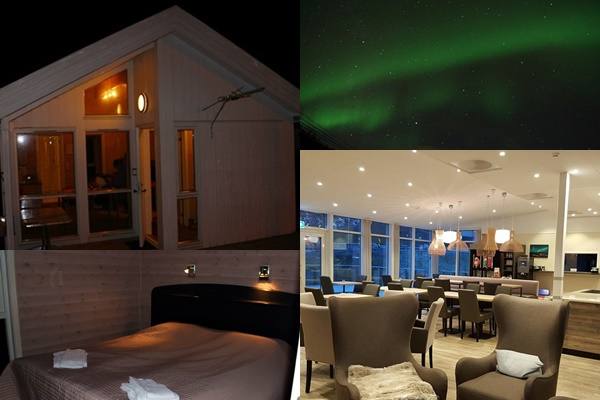 Tromso Camping (mixing pleasure with business more awesome pleasure!)
While searching expedia.com for hotels in Tromso I stumbled upon a perfect place, Tromso Camping (pronounced Tromsø in Norwegian).
Since we were on a budget, we really needed three little things:
a nice place to stay,

a short distance to the city

and of course, a good price.
The pictures on Expedia looked great and they seemed affordable at 1575 NOK for 3 nights. To our delight, Tromso Camping seems to have all those things.
During this northern lights trip on a budget, we booked the accommodations right away, afraid that the price would change or the occupancy would fill. So we booked and we were in!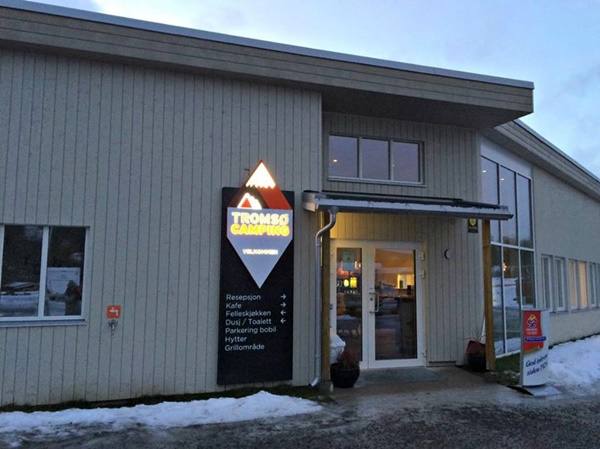 Tromso Camping Expectations
After booking the trip, I started browsing Tromsø Camping website, to see a little more of the "hotel" we just booked on Expedia. This was when I realized that the accommodation I had just booked was actually a cozy log cabin in a camping location (as the "camping" part of the name implies), and not your average typical hotel.
One of the reasons I booked with Tromso Camping was that Expedia stated it was only about 10 minutes drive away from the city. So after realizing that it was a camping site, I have to say, I was a little nervous that the location might be too remotely located.
Luckily my nerves were put at ease when browsing Tromso Camping website, that it was located only a few minutes (about 5-7 mins) drive away from the city center.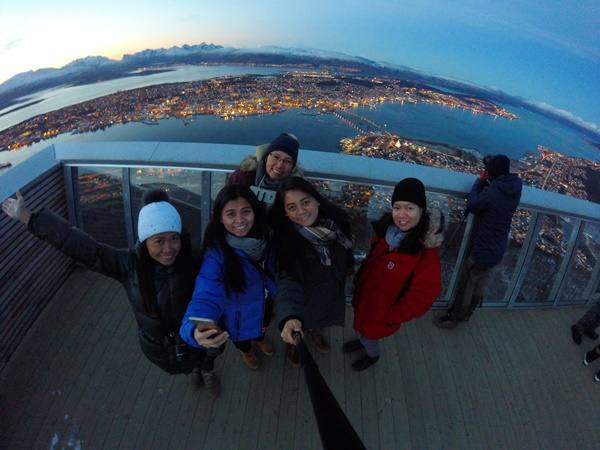 How did we get to Tromsø Camping?
From the airport, we took a big taxi that could accommodate five of us. The cost of the taxi could be from 500 to 600 NOK.
There is also an airport bus that will take you to the city center at 90 NOK per person (as of Nov 2016).
It was past 8:00 in the evening when we arrived and the reception was already closed. A friendly staff who was still there probably getting ready to leave. She gladly welcomed us and gave us our keys (that were already left outside the main door) and some instructions.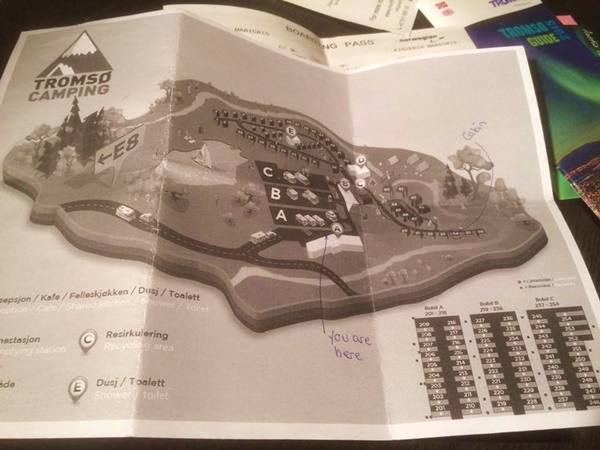 As we were looking at the Tromso Camping map, we were shocked to see how huge the place was. Just imagine, 53 cabins altogether. And since everyone was already tired, we only hoped that our cabins were not that far away.
The Tromso Camping cabins
My friends and I originally booked for two economy cottages but we ended up with one economy and one comfort cabin. As soon as we stepped in our cabins, we knew our stay was going to be a great experience!
The economy cottage
This is an awesome deal if you're looking for a nice place to sleep. Along with a little adventure at a cheaper price, then the economy cottage is a definite must do.
Here is a little overview of the economy cottages:
2 double deck beds (this cottage can accommodate up to 4 persons)

a small fridge and a stove

kitchen utensils aren't included

the pillows, bed linens, and towels come with an extra charge of about 100 for the set

there is no running water inside the economy cottage, however, there is an access to the camping site's shared kitchen and bathrooms
The location of our particular cottage was located close to the sauna, which can be quite perfect on a cold winter night!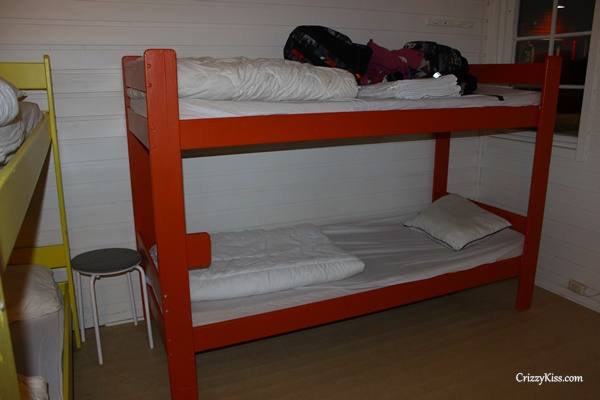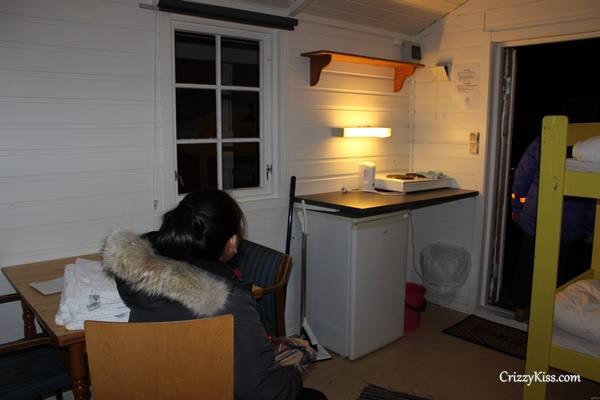 When you're just looking for a decent place to sleep at a cheaper price, then go for an economy cottage.
The comfort cabin
The comfort cabin was equipped with all the comforts of home in a cozy cottage cabin in the woods. It came with a fully functional kitchen with all the amenities, such as:
fridge

microwave

coffee maker, etc.
We were so delighted when we realized the comfort cabin was literally equipped with everything that we need for cooking and dining.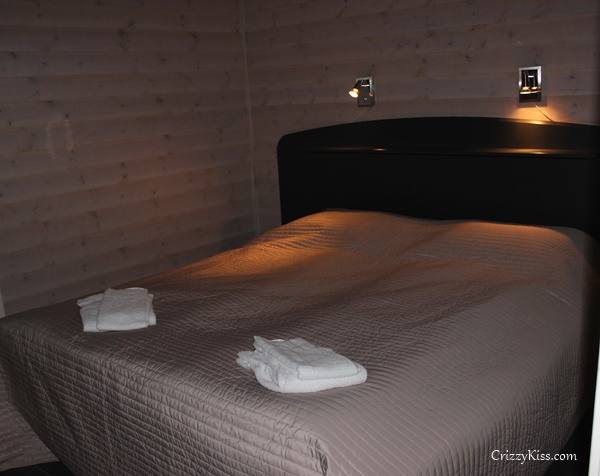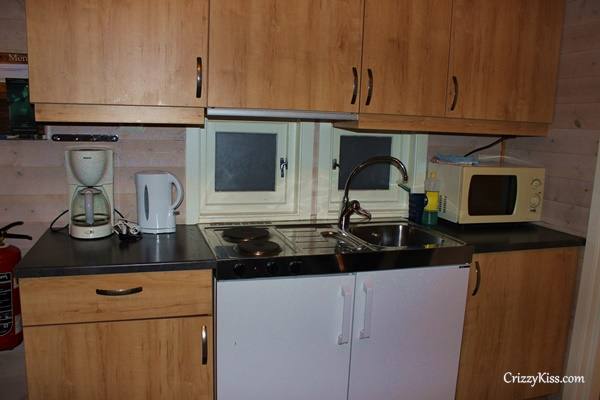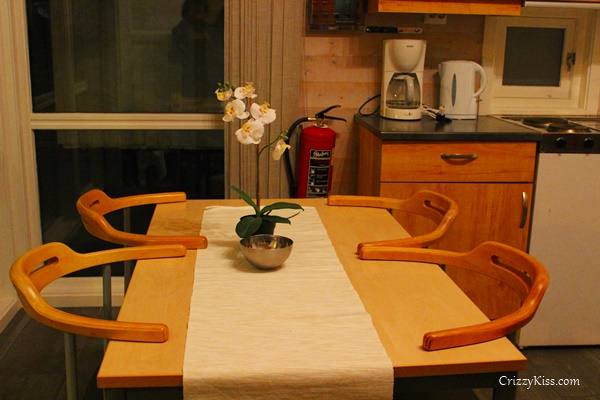 The comfort cabin has:
a private bathroom

one bedroom with,

linen and pillows included with no extra charge

a living room and,

a sofa that can be opened into a bed.
It is important to note that at Tromso Camping, they usually charge an end of stay cleaning fee from 150Nok and up (if you do it yourself it is, of course, free), but this charge is also included in the comfort cabin price. 🙂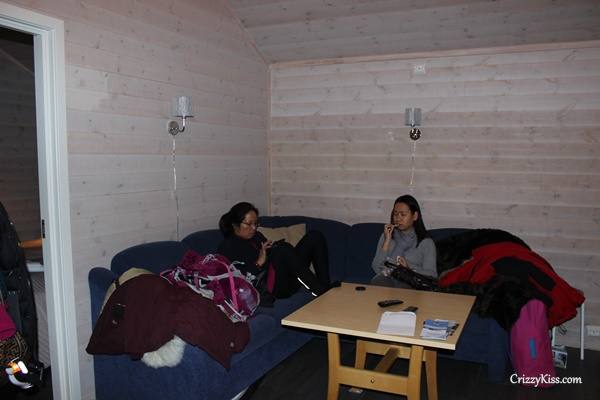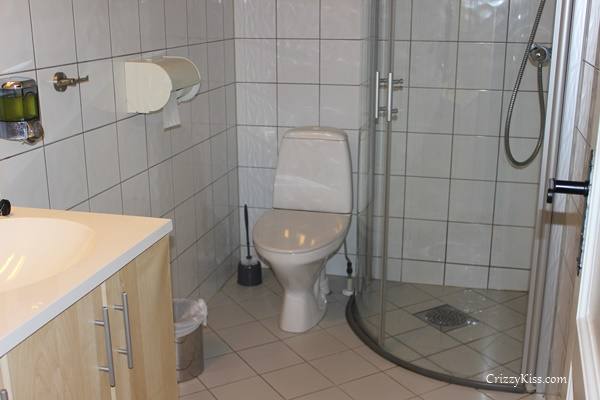 The comfort cabin in Tromso Camping is sure a win-win choice if you just want to relax and feel at home. It's like a mini apartment in the forest.
Tromsø Camping - experiencing the magnificent beauty of a frosty nature and friendly neighborhood
Staying in Tromso Camping also means experiencing the magnificent frosty beauty of nature. The breathtaking snow caps of the mountains lined with a crystal clear river flowing nearby.
Being in nature and in touch with nature is the key here and if you're lucky with the weather, you get to see the northern lights right from your own little cozy cabin at Tromso Camping.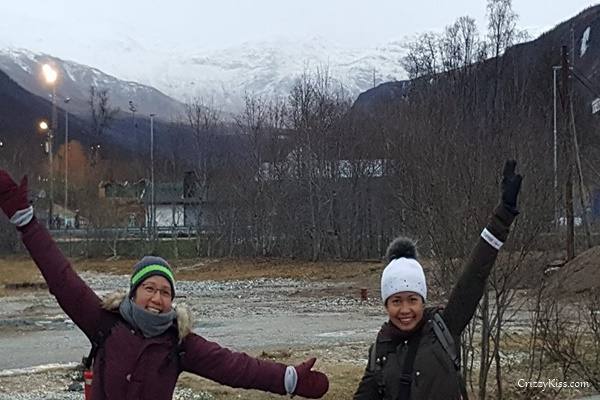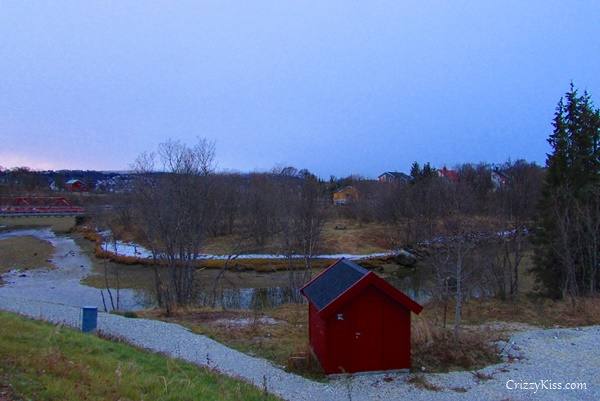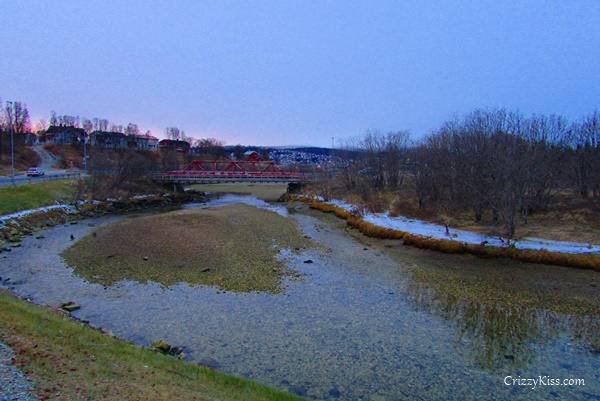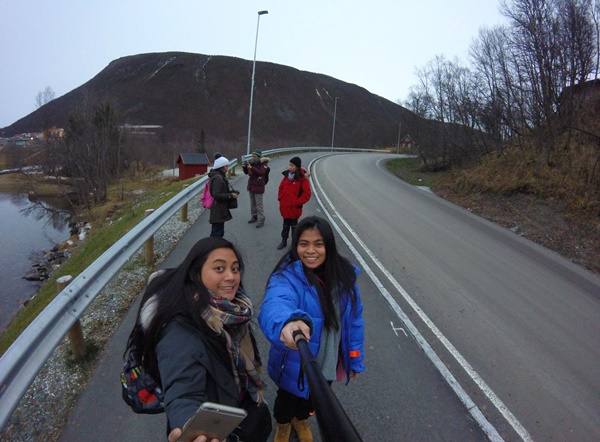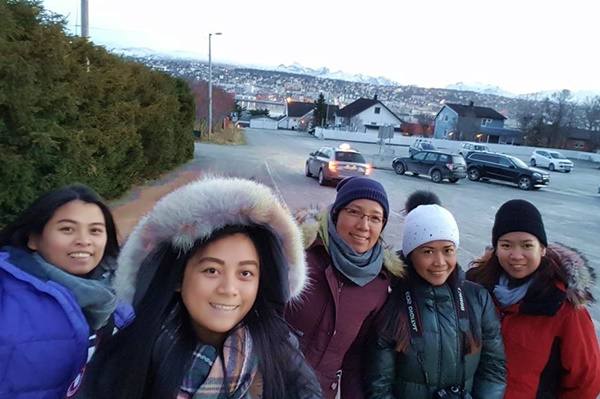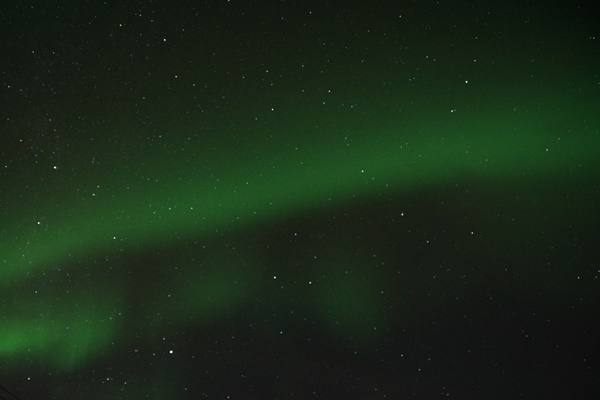 It's normal to get lost when you're new to the place, but lucky for us the locals that we met were so so nice that they even walked with us to make sure we got to the right place. It was only about a 15-minute walk going to the nearest store and about a 10-minute walk going to the bus station.
The combination of friendly people and a cozy place in nature just magnifies the sense of a local experience.
(Btw, in case you missed it you can also read my other exciting article about northern lights weekend break with friends).
Tromsø Camping : For both family and/or friends
Tromso camping is perfect when you're traveling with the family too. Tromso Camping accommodations offer 53 different cabins with spaces for tents or caravans. So you have a vast selection of economy cottages from their high standard comfort cabin to their comfort cabin plus.
As an added bonus you get to enjoy free parking and wifi in the entire site. Isn't that cool?! For more detailed information on other cabins, please read more on this link Tromsø Camping accommodation.
It was really a delight to stay in the comfort cabin with friendly and polite staff. They were very kind funny, professional and attentive to our needs. I think we wore them down a little with all our questions. 🙂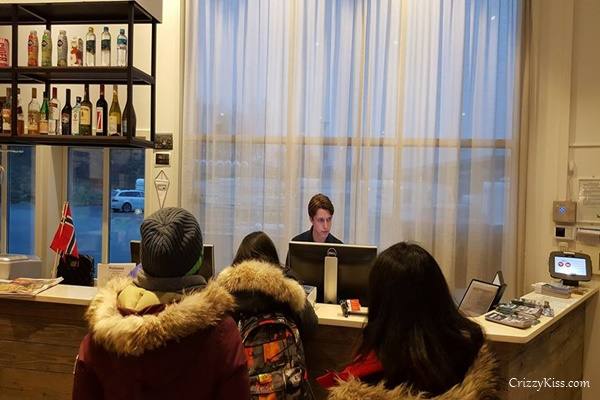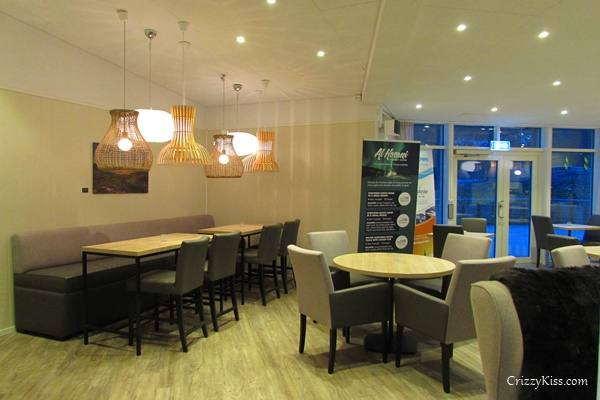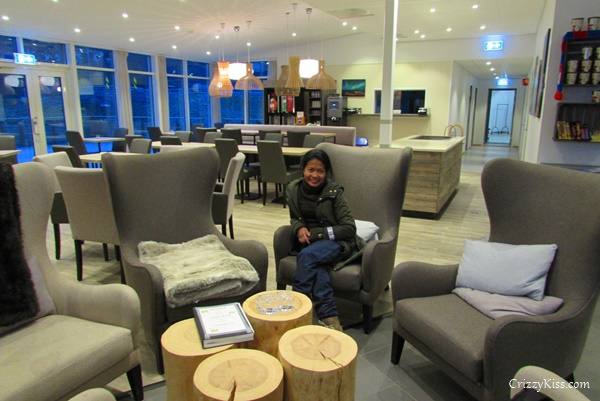 Disclaimer: My cabin was upgraded from Economy to Comfort cabin in exchange for a review. As always, all words and opinions are my own.
Thank you for reading this article! Are you looking for an accommodation in Tromso? If you have more questions about my Tromso Camping experience that I wasn't able to cover on this article, please leave your comment below.
If you like this article please share it with your friends and family who might need a good read and a great place to stay!
Pin me here!