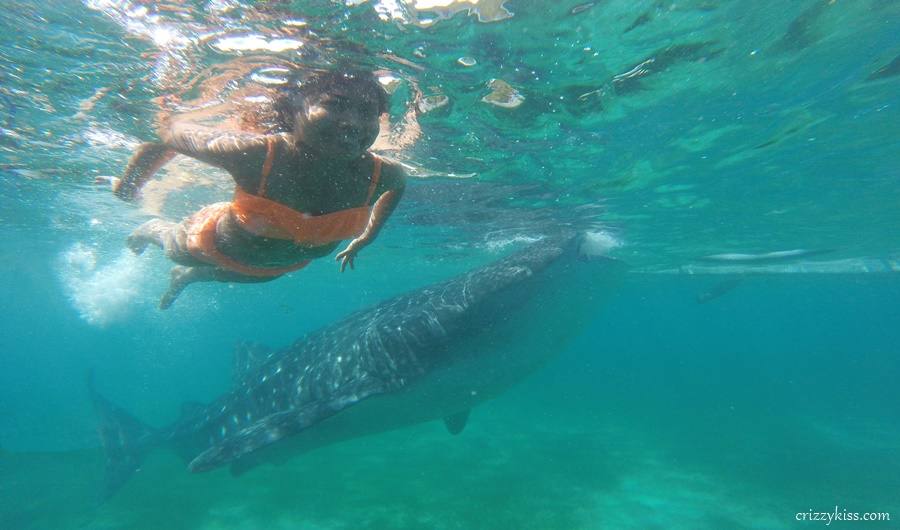 Whale shark watching is a lot more fun (than being eaten by one!)
Whale shark watching and swimming with the whale sharks in Oslob, Cebu has become a popular pastime,  and one of the top things to do for many tourists in the Philippines. Whale sharks are locally known as Butanding, in the Philippines. They are one of the world's largest fish, that feed on zooplankton and other smaller fishes. (Luckily, for us, they are absolutely safe for humans.)
In Oslob whale shark watching has become a controversial and disputable issue with regards to habitat interaction compliance, nutrition and other human activities affecting their environment. Human encroachment is real and it's threatening for these gentle giants of the sea.  Educating ourselves about these magnificent creatures will not only help our understanding of them and their environment. It will also ensure that future generations can experience the beauty and magnificent of these grand gentle giants.
Here is an awesome video about "Befriending Giants" by Blue Sphere Media.
My trip was a long journey. I couldn't say that I had the greatest of times throughout every aspect of my trip, but swimming with the whale sharks in Oslob, Cebu was an extraordinary exhilarating experience. Without a doubt the highlight of my long long trip!
Here are some tips and things to expect when you go whale shark watching or swimming with the whale sharks:
Watch out for tourist traps
As soon as we stopped in the town of Oslob, we were hurdled  right away by the habal-habal* driver who was less than truthful when he stated, "that the Butanding are not going to show-up if we don't hurry". Habal-habal motorcycles cost Php 50, while if you take the jeepney it'll only cost about Php 10 and it's about 15-20 mins ride to get to the resort. 
(* Habal-habal is a term for a motorcycle taxi without a cab) 
Staying at a resort
There are many resorts you can stay in Oslob. However, if you're not staying overnight, you can leave your things at the resort where they have lockers available. You can pay for the whale shark watching service from there too. Whale shark watching tickets can be bought anywhere with the same price as it is regulated by the government and they have a standard fee for it. Most of the resorts have an entrance fee of Php100 . The services include multi-cab service to the whale shark watching center, use of lockers and shower. Otherwise, you can also go to the Whale Shark Watching Center right away and get the same service for lockers and shower for free.
Arrive early and safely
When you arrive in Bryg. Tan-awan, where Oslob Whale Shark Watching Center is located, after 09:00 AM, prepare for long tourist queues waiting for the boat service. So, arrive as early as you can, to get a better chance to enjoy a great Oslob whale shark watching or swimming experience.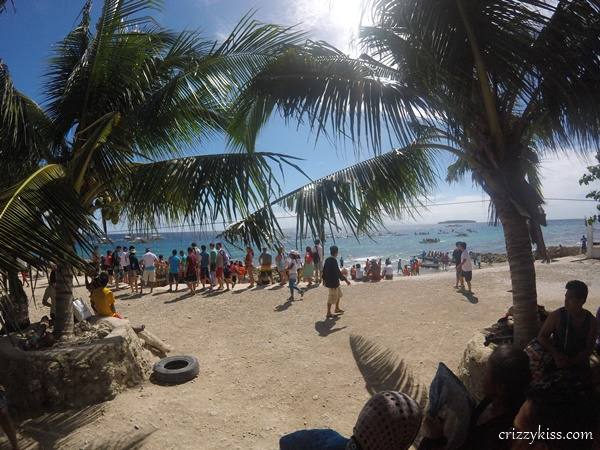 Briefing before the whale shark watching
Everyone has to go through a short briefing about the guidelines and safety when you go on whale shark watching or snorkeling with the whale sharks. This will take approx. 10 minutes and they do it in batches.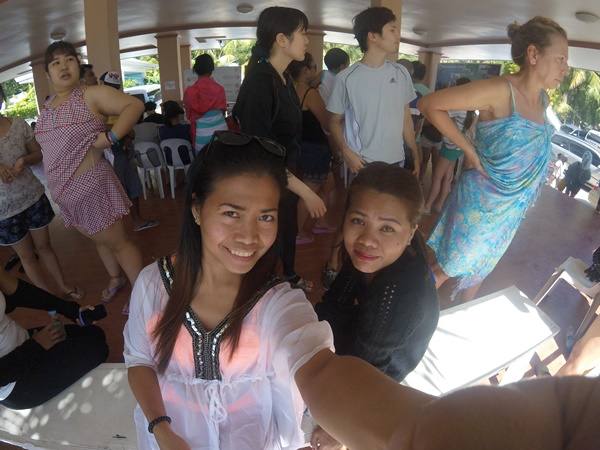 No touching
Obviously, for the whale shark protection, it is a no-no to touch the whale sharks and failure to follow will be fined Php2000 or imprisonment for about 60 days.
Waiting time
It took us roughly an hour to wait for our turn for the boat service. Loads of tourists are sent back and forth. The boat trip only takes about 30 mins and you are given about 20 minutes to swim with the whale sharks. I know it may sound too short, but that amount of time was actually just enough for whale shark watching and snorkeling.
Boat Feeders
There are boats going around to feed the whale sharks with tiny shrimps, so they're coming after the boats all morning until noontime, hence, a perfect schedule for whale shark watching. This procedure of feeding has gotten issues when it comes to nutrition, interaction, and ecological balance. That, the whale sharks aren't afraid of humans anymore or they get dependent on hand feeding from humans and boats for food.
Bring an underwater camera
Having your own underwater camera is both has its advantages and disadvantages. If you're traveling of course with somebody who knows how to operate your underwater camera, you can save a few bucks and get the pictures you wanted to have. However, if you're traveling alone and if the group you're within the boat paid the boat service for underwater pictures, they'll prioritize them over those who aren't paying their service. I was lucky that the group of tourists in my boat can't swim so I got chances to have solo pictures taken with my new friend Butanding. 😉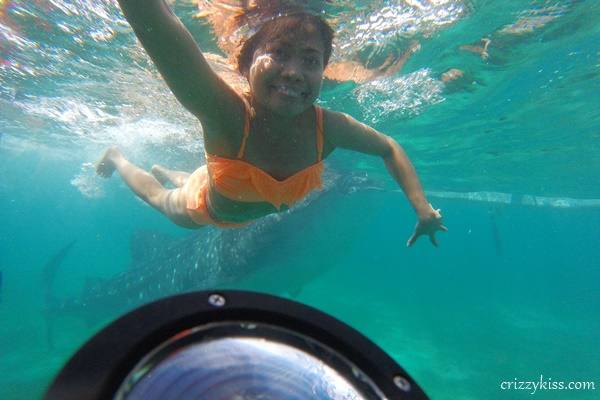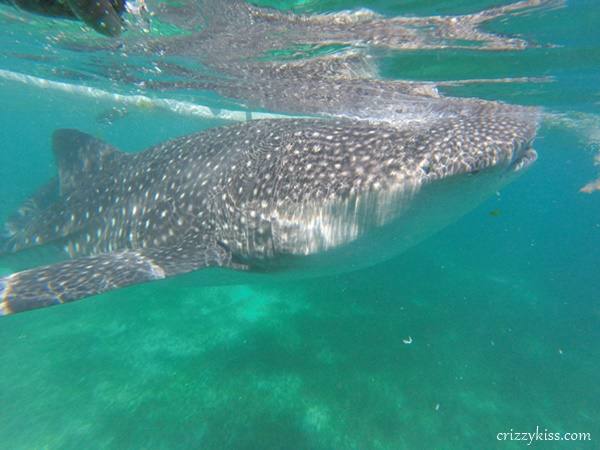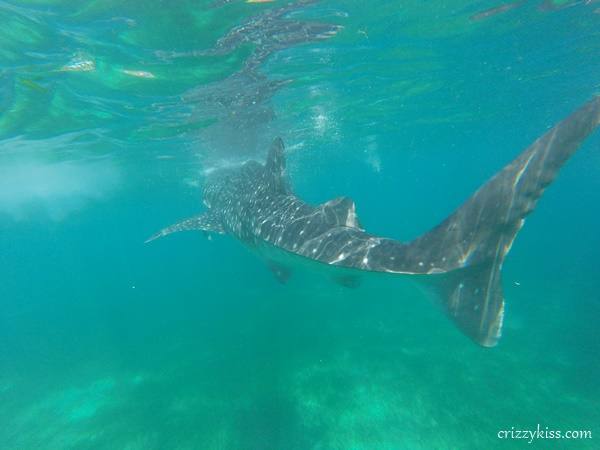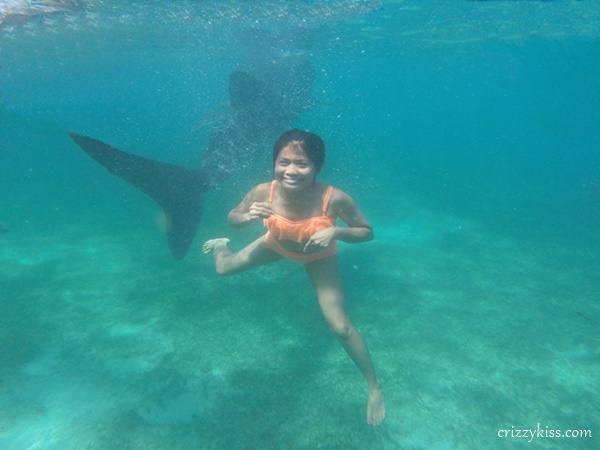 Don't put lotion or any sunscreen
These chemicals are harmful to the whale sharks. But when you did apply some before going to the Oslob Whale Shark Watching Centre, they will ask you to take a shower before getting on the boats.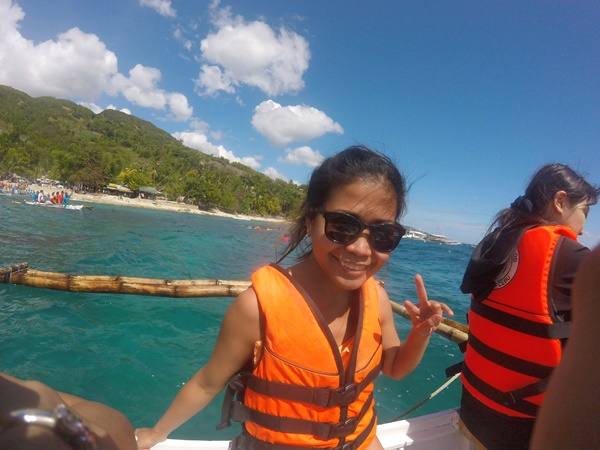 Seeing these friendly giant creatures was mind-blowing, despite some of the shortcomings in Oslob. The friendship that you can see between the people and these beautiful giants was just so incredible. We hope that the Oslob whale shark watching center will improve some of these drawbacks, not just for the visitor's experience but also develop a well-managed eco-tourism procedure for the whale sharks ecosystem in Oslob, Cebu.
How to get to Oslob whale shark watching center?
You can either rent a van or a car from Php 8000 - Php 10,000 or take the bus at the South Bus terminal in Cebu city. This will take about 3-4 hrs or more depending on the traffic. The bus ride costs about Php 170 per person each way, then from Oslob town, you take another ride to Brgy. Tan-awan through  jeepney or multi-cab which will cost you Php10 only while the habal-habal motorcycles rides cost Php 50 per person.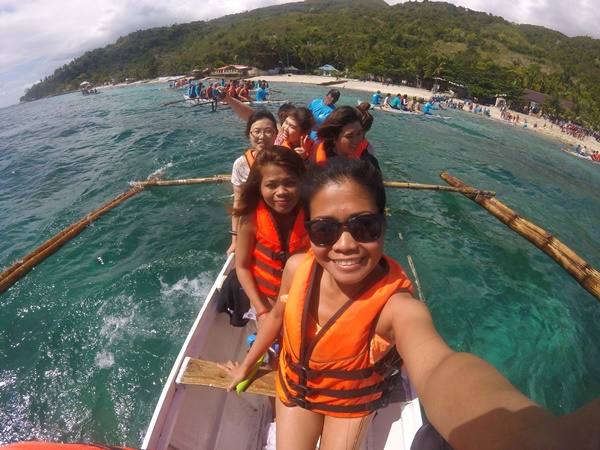 Whale shark watching tour Rates
Whale shark watching (only in boats, no swimming) (Local tourists) -Php 300 - Foreign tourists - Php 500
Whale shark snorkeling or swimming Local tourists - Php 500 - Foreign tourists - Php 1000
Scuba diving -Php 3500
For tour packages rates, please check the Oslob Whale Sharks site.
Thank you for reading! Please share if you like this article! 😉
Pin me here!